copy of Mid-Century Modern PP75/120 or 140 cm table by Hans Wegner. New product.
PP025

Delivery time : 12 months
(from)
copy of Mid-Century Modern PP75/120 or 140 cm table by Hans Wegner. New product. *Required step
In order to help you to choose, and to receive samples, do not hesitate to contact us by email: contact@galerie-mobler.com or by phone: 01 43 33 20 12
Mid-Century Modern  PP75 table  by Hans Wegner. New product. The table was designed by Hans J. Wegner in 1982 for PP Møbler. pp75 is an exiting table from Wegner's hand. Especially noticeable is the frame, where we see Wegner's preoccupation with triangles.

The triangle is a simple and very strong construction principle, often used in larger constructions such as bridges, but with this design Wegner has made a quantum leap downwards in scale. The centrally placed legs constitute a pyramid in the shape of four triangles, and these triangles are repeated in the steel bars keeping the legs in place. Consequently, the circular, solid tabletop seems to balance itself on top of the pyramid.

In pp75, construction principles, common sense, and strong symbolical symbols thus enter together in an almost metaphysical unity.

The table is available in soaptreated or lacquered ash or oak wood.


Year
1982
Dimensions
Height: 70 cmDiameter : 120 cm or 140 cm
Style
Classique
Neuf
Origin
Denmark
Fournisseur
PP Møbler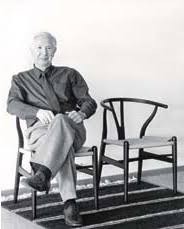 Hans J. Wegner
Among Danish furniture designers, Hans J. Wegner (1914-2007) is considered one of the most creative, innovative and prolific. Often referred to as the master of the chair, Wegner created almost 500 in his lifetime – many of them considered masterpieces. His iconic Wishbone Chair is probably the most well-known and has been in continuous production since 1950.
Wegner was part of the spectacular generation that created what is today referred to as 'the Golden Age' of modern Danish design. "Many foreigners have asked me how we created the Danish style," Wegner once said. "And I've answered that it was a continuous process of purification and of simplification – to cut down to the simplest possible design of four legs, a seat, and a combined back- and armrest."
The son of a cobbler, Wegner was born in 1914 in Tønder, a town in southern Denmark. He began his apprenticeship with Danish master cabinetmaker H. F. Stahlberg when he was just 14 years old. Later on, he moved to Copenhagen and attended the School of Arts and Crafts from 1936 to 1938 before setting out as a furniture designer.
In 1938, Wegner was approached by architects and designers Arne Jacobsen and Erik Møller, and started designing furniture for the new Aarhus City Hall. During the same period, Wegner began collaborating with master cabinetmaker Johannes Hansen, who was a driving force in bringing new furniture design to the Danish public at the Copenhagen Cabinetmakers' Guild Exhibitions.
The core of Wegner's legacy is his focus on showing the inner soul of furniture pieces through a simple and functional exterior. Wegner's background as a cabinetmaker gave him a deep understanding of how to integrate exacting joinery techniques with exquisite form. His aesthetic was also based on a deep respect for wood and its characteristics, and a vast curiosity about other natural materials that enabled him to bring an organic, natural softness to formalistic minimalism.
Wegner established his own design studio in 1943 and created a series of lightweight chairs for Carl Hansen & Søn from 1949 until 1968, including the Wishbone Chair, which has been in production at Carl Hansen & Søn ever since.
Wegner is seen as one of the most renowned and creative Danish furniture designers. He received many design awards, including the Lunning Prize in 1951, the Grand Prix of the Milan Triennale in 1951, the Royal Danish Academy of Fine Arts' Eckersberg Medal in 1956, Sweden's Prince Eugen Medal in 1961, the Danish Furniture Prize in 1980, the C. F. Hansen Medal in 1982, and the 8th International Design Award in 1997. He was made an Honorary Royal Designer for industry by the Royal Society of Arts in London in 1959, became an honorary member of the Royal Danish Academy of Fine Arts in 1995, and was awarded an honorary Doctorate by the Royal College of Art in 1997. 
Almost all of the world's major design museums, from the Museum of Modern Art in New York and Designmuseum Danmark in Copenhagen to Die Neue Sammlung in Munich, exhibit his works. Hans J. Wegner died in Denmark in January 2007, aged 92.