everything there is to know about Scandinavian vintage
Galerie Mobler only sells authentic Scandinavian design furniture. This means that everything we sell has been approved by the designer and carries his or her signature, or other identifying marks (possible to identify the date, the workshop or the factory). 
Counterfeit versions of design classics or cheap copies are sometimes tempting, given their price, but their quality, their uniqueness, their solidity, cannot be guaranteed from one generation to the next.
Authenticity of the articles on sale
It is conferred by:
The stamp of the "DANISH FURNITUREMAKERS QUALITY CONTROL" (for Danish furniture made after 1959) and which can be found at the back of the furniture, underneath it or in one of the drawers. It can be in the form of a label, an ink stamp, brand, printed on the manufacturer's label, or for older pieces, and particularly chairs, a tab set into the wood.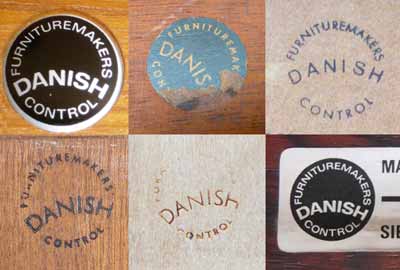 The name or the initials of the manufacturer or the factory. This is usually branded, but it can also be an ink stamp, a label or a tab set into the wood.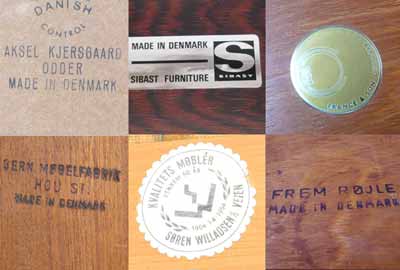 The name or the signature of the designer. This can be branded, chiseled or featured on the manufacturer's label or tab. A serial number might also be engraved on the tab or chiseled.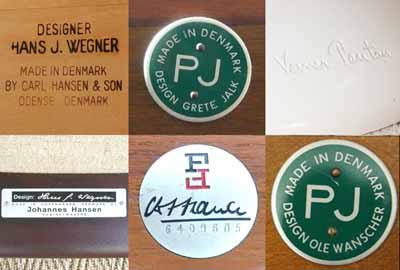 When a piece of furniture has not been marked, the materials used and the finishing touches are an indicator of its history and age.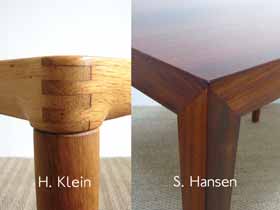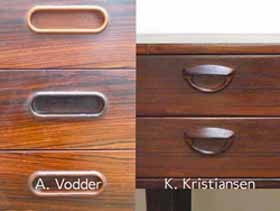 The condition of vintage Scandinavian furniture
Obviously, an original vintage piece will show traces of past use, signs of its history and uniqueness. Galerie Mobler pays particular attention only to offer pieces that are in the best possible condition, and calls upon the services of specialist Danish craftsmen and women to ensure the highest quality of restoration. To avoid any unwanted surprises we are extremely open in the presentation of our collections, with detailed descriptions and photos (close ups) of any scratches, signs of use or repairs.
The value of vintage
There are no rules as to the price of vintage furniture: Prices vary, and are sometimes higher than brand new replicas, sometimes a lot more affordable. Galerie Mobler has taken the "bargain hunter" approach in setting prices: the rarity and the originality of a piece of furniture, the condition and the quality of any repairs that have been made, the beauty and, of course, the reputation.
Availability of vintage Scandinavian design
Galerie Mobler depends upon the very fashionable vintage design market for it's Scandinavian design furniture dating from the second half of the twentieth century. Faced with unprecedented interest on all continents, Galerie Mobler is committed to proposing the widest possible collection of items. Not all of our products are available on a permanent basis but here at Galerie Mobler we are continually renewing and improving our selection (to be found in "Latest Arrivals", accessed from our Home page).
If you wish, you can send us your special requests, and we will do our best to find it for you. If we find an item that corresponds, we will let you know and put the item to one side for you. Create an alert.
materials used in 20th century Scandinavian design
Scandinavian design stands out in particular for the attention that has been paid to the choice of materials. The most influential designers focused on functionality, over and above mere aesthetic values. For the development of new shapes and designs, the materials used in Scandinavian furniture were often key in providing natural elegance, sobriety and pure lines.
The most emblematic designers of the period had double degrees in architecture and engineering, like Verner Panton, and thereby enjoyed a certain mastery of the intrinsic characteristics of their materials which they brought across into the world of design. Another thing that they had in common, Scandinavian design from the second half of the twentieth century is often the result of a close collaboration between the artist-creator (the designer) and the craftsman-producer (the master carpenters).
Nana Ditzel, who trained as a carpenter, or Finn Julh, embodied the new functions given to furniture with their unrivalled knowledge of the tensions and strengths of different types of wood and their structural capacities.
Design in a social setting with the aim of industrial-scale production influenced the choice of materials that were suitable for mass production. This style of design for everyone carried the slogan "Beauty every day". Some of the most iconic designers took their inspiration from developments in plastics technology to let their imaginations run wild in the creation of avant-garde and futuristic designs.
Natural materials
Wood, with its palette of luminous shades, is the material used in Scandinavian design from this era, a symbol of the close relationship between the countries of the North and the environment. It is often used in association with other natural materials (leather – glass - stone).
The woods that are most frequently found, in solid or as veneers, are precious woods such as oak and beech, but also exotic woods such as close-grain teak, easy to work with and producing a very smooth finish, or the unique colors of acacia. The most beautiful pieces are made from Brazilian rosewood, a wood with exceptional mechanical qualities and which, today, is extremely rare as the result of a ban on use of trees cut after 1992.$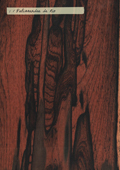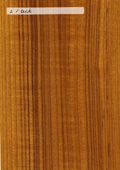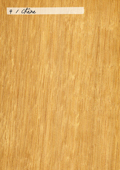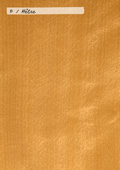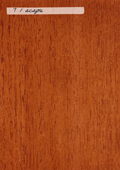 Drawers are usually made from ash or pine. Sycamore is used principally for the internal veneers of desks and cupboards.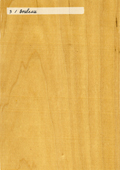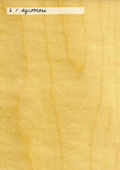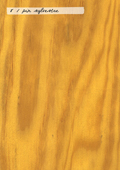 Wood is also used in multiple layers of oak or beech, in the form of laminated plywood for creating the innovative curves or ripples, or for revolutionary designs made from one single piece of wood.
The natural materials that are used with the wood are, of course, leathers (which mark the separation between the back and the seat on armchairs and settees), but other beautiful fabrics were also used, often created by the most reputable upholstery manufacturers such as Kvadrat.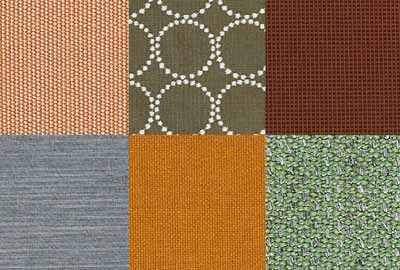 Finally, the designers also used a wide variety of other natural materials, from simple wicker for sewing boxes to the sophisticated ceramics and marble of Carrare for the famous tulip tables by Eero Saarinen.
Metals
Steel is undeniably the favorite metal of the most iconic designers such as Arne Jacobsen or Paul Kjaerholm, favored for its strength and simplicity, allowing the production of tubular furniture from one single piece.
Chromed, lacquered or silver-coated, it is undeniably Scandinavian design that has elevated this metal to such a high status.
Aluminum was widely used by Poul Henningsen in his famous PH lamps, made by Louis Poulsen.
Technical and synthetic materials
The use of technical and synthetic materials freed Scandinavian design from traditional constraints in terms of strength and shape: Pioneering the use of injection-molded plastics, resin shells, polyurethane mousse, imitation leather and melamine, Scandinavian design was the first to embrace modernity with such gusto, with new levels of practicality and revolutionary levels of comfort which continue to inspire contemporary design today: stackable furniture that is extremely light-weight, multi-functional, optimized in terms of size, and worked down to the last detail for the demands of modern living.
This design was also innovative in its use of color in furniture for the first time, offering an unlimited choice of bright colors.
About Rio rosewood, by Christian Dababos, danish vintage furniture dealer
Rio rosewood is a specific rosewood named Dalbergia nigra or Jacarunda. It is coming from the Brazilian jungle, specifically near the city of Rio de Janerio, thus the name Rio rosewood or Rio palisander.
There are certainly other rosewood types, from other places in the world but not with the same characteristics as the Rio Rosewood.
The Rio Rosewood produces a very hard and heavy wood, characteristically varied in color from brick red through various shades of brown (medium to nearly black). Pieces that feature veins of black coloration called spider webbing or landscape grain are especially prized. The Rio rosewood needs a habitat of wet and damp forest on rich soils to thrive. It is only found in the Atlantic Forest of southeastern Brazil, from southern Bahia to Minas Gerais and Rio de Janeiro
Used for centuries for making musical instruments as the best wood available, among others, the Danish architect´s of the Mid century wave like Arne Vodder, Niels Ole Møller, Ole Wanscher, Peder Moos and of course Johannes Andersen began incorporating this wood type in their finest furniture  
Such exploitation of the Rio rosewood has led this to be on Cites top list for endangered species, plants and and woods.
Since 1992 there has been a complete ban on producing new furniture with this wood type and is not to be traded internationally - except vintage furniture and logs of woods dating from before 1992. And so of course Danish furniture from the years 1950-1970 are legally permitted. 
It goes without saying, and we as dealers (even in Denmark) have felt it increasingly difficult finding good quality furniture with this exceptional beautiful wood type from this period.
The grain and structure of this particular wood is beautiful and not 2 furnitures are the same as the black "veins" varies from wood piece to other.
Already around 1970 the "good Rio rosewood" came in shortage, so Honduras- or West-Indian rosewood was introduced but never with the same magic or intriguing patterns. In relation to this, mahogany and teak has been in more abundance when making furniture and so, as a result there are more common.
And when one factors in that the trees' regeneration rates among existing populations are poor, possibly because the seeds of the few remaining fruiting trees are heavily predated by rodents and in addition it is threatened by habitat loss, since most of the plant's forest habitats have been converted to farmland, the quality of future Rio rosewoods will not match the quality of the past.
And finally there is a vast international demand from The United States and from an increasing number in middle/upperclass in Asia where Rio rosewood has seen a sharp increase in prices. We don´t expect this to turn, as quite simply, there is nowhere near a supply of the best of Scandinavian mid-century modern to cover the huge international demand. Just like we have seen an incredible increase in pricing for top class French wine from Bordeaux and Burgundy in the last two decades.