Everything there is to know about contemporary nordic design
The new Golden Age of Scandinavian design from Scandinavian Modern to New Nordic
Interest in Scandinavian design does not seem to be abating. In fashion for almost 25 years, not only in France but throughout the world, collectors are falling over each other to acquire 1950s designs, like the original FJ45 armchairs by the Dane Finn Juhl, the Egg by Arne Jacobsen or the creations of Poul Kjaerholm.
This passion for the classics of Scandinavian design between 1945 to 1970, and especially for Danish design, has also benefitted the lesser known designers like Poul Hundevad, Poul Volther, Kurt Ostervig or the Norwegian Sigurd Ressel.
 But alongside this design, now considered "classic", a new generation of designers have been making a name for themselves since the 1990s. Names like Cecilie Manz, Louise Campbell, Kasper Salto, Thomas Sandgreen Jacobsen, or Gamfrasi, are now globally recognised and sought-after. They have successfully broken through on an international scale and work with prestigious classic manufacturers looking towards renewal, like Fritz Hansen, Louis Poulsen or Fredericia Furniture. These major manufacturers have created a link between the design of the classical era and a new, more contemporary, expression.
To this new generation of designers can be added a new generation of manufacturers and publishers. To the now classic Fritz Hansen, Andersen Furniture, Carl Hansen, etc, have been added editors often introducing a more colourful style, daring to use materials other than wood, and at more affordable prices. Names such as Muuto, Ferm Living, Hay, Gubi, &tradition, Handvark,.. to name but a few, are well known to lovers of Scandinavian design.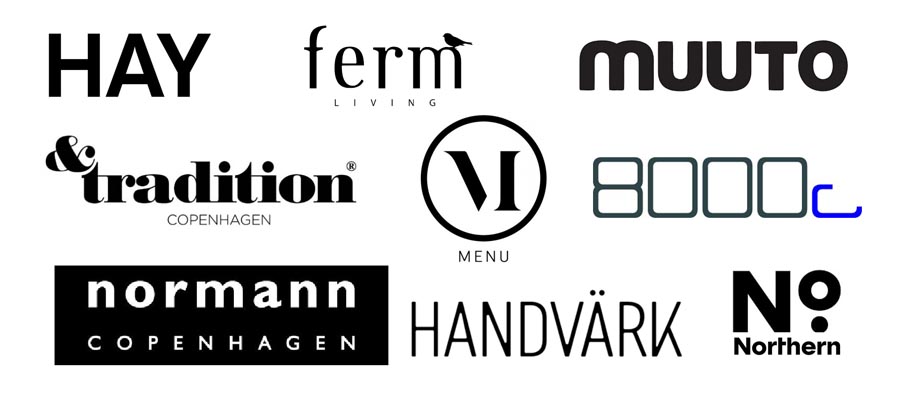 Operating on the same model as the world of fashion, these new houses present collections once or twice a year, following the current trends. The creations are often the work of "inhouse designers" (creative studios that are integrated with the brand) and rarely that of external designers. These creators have introduced materials that are not often seen in classic Scandinavian design, like marble, gilt, and velvet for example. As well as offering furniture collections, their strength lies in offering a complete range of decorative art objects to create a universe.
This is the Scandinavian universe, where furniture comes with cushions, plaids, candle holders, and other small objects to create the famous "hygge", (pronounced uweu), a warm and cosy feel. It is a notion that has always existed in Scandinavia, although previously few editors offered an entire range, all the way down to the smallest objects, as is the case today. In fact, even manufacturers like Fritz Hansen have started producing objects and small items of furniture. A way to expand their catalogue and reach a different audience.
Although this renewal of manufacturers and publishing houses, essentially Danish, has breathed new life into Scandinavian design, its roots are well and truly set in the classic traditions of the Golden Age of the "Scandinavian Modern" movement. These shared roots are, among others, the importance given to the choice of materials, the inspiration provided by nature, understated lines, sometimes minimalist, transparency, the idea of democratic design and the importance of detail and of work well done. Speaking about his "Loft Chair" for Muuto, the designer Thomas Bentzen said that the most important part of a good design is that it has to be based on simplicity, practicality, rationality and comfort.
As far as manufacturing is concerned, contemporary Scandinavian design is more industrial design than the craftsmanship of the old cabinet makers. These creations are more in line with houses like Fritz Hansen, Louis Poulsen and FBD and creators like Arne Jacobsen or Borge Mogensen, and are moving away from the "hand-made" or limited-edition creations of Kaare Klint, Finn Juhl and Hans J Wegner when they started out.
As well as their shared Scandinavian roots, the new creators have found a new dynamic and inspirations from further south, resulting in the emergence of a new style, called Nordic southern.
For those in the know and eclectic collectors of the more limited editions, the creations of the classic houses have also been renewed over these last few decades, the result of partnerships with new designers. Fritz Hansen has worked for example with Cecile Manz (e.g. the Minuscule Chair, the Objects pouf), GamFratesi, Mia Lagerman, Salto & Sigsgaard, Kasper Salto, Formfjord and Hans Sandgren Jakobsen. Fredericia Furniture has also worked with Cecilie Manz (Micado Table) and with GamFratesi and Hans Sandgren Jakobsen. Louis Poulsen entrusted the creation of new lighting to Louise Campbell (collage 450).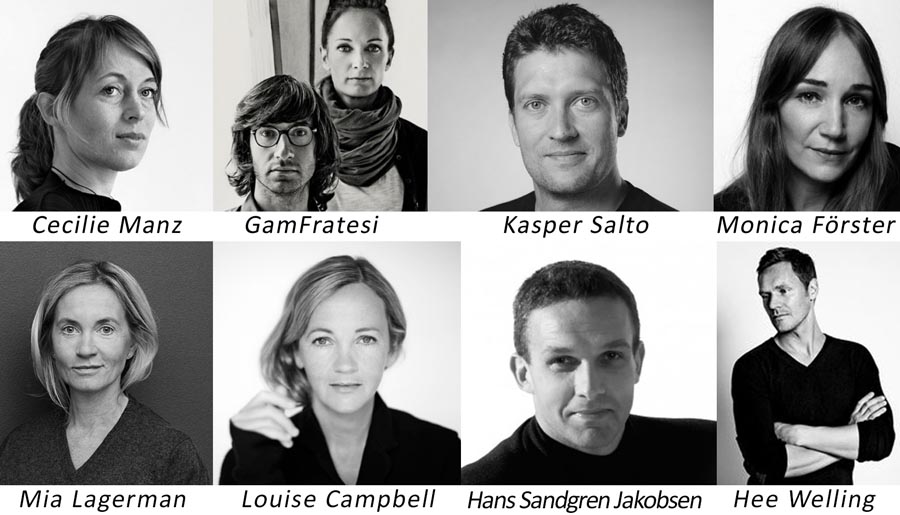 Cecilie Manz and Louise Campbell are industrial designers who are part of this new generation of internationally known Scandinavian designers and who have worked with the majority of the prestigious Danish publishing houses in the design sector, such as Holmegaard, Georg Jensen, B&O, etc.
Others, like the design duo Sören Nissen and Ebbe Gehl, edited by Naver, have favoured materials produced from traditional Scandinavian craftsmanship, as found in the workshops of Rud Rasmussen.
It is amusing to note that the "old" and new publishing houses operate in similar ways. Hay, Gubi, like Fritz Hansen, manufactures both their own designs and those of national and international designers, for example the ELEMENTAIRE chair by the Bouroullec brothers for HAY, or certain re-editions by Marcel Gascoin, Pierre Paulin or Jacques Adnet by GUBI.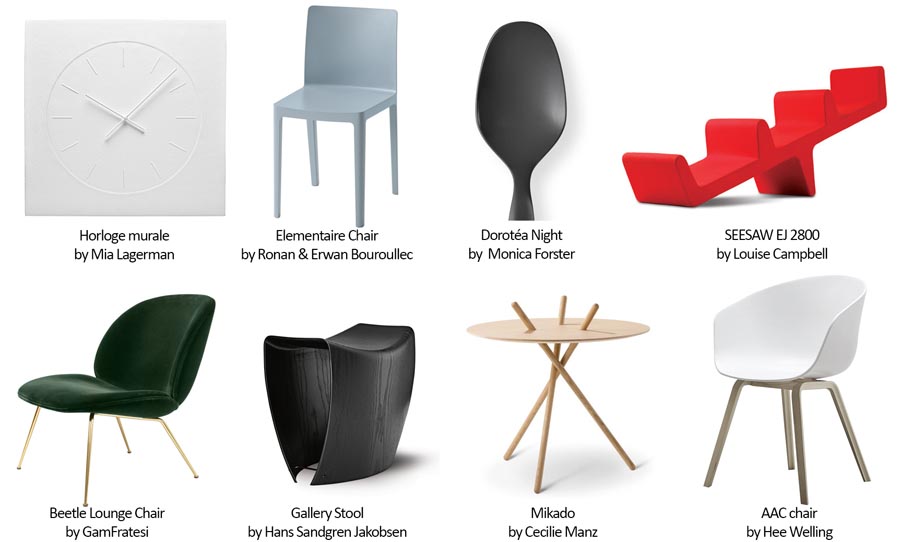 In the same way, the contemporary editor Menu has re-released the classic "Knitting Chair" by Ib Kofod-Larsen (1951) and the traditional manufacturer FDB is starting to produce the young creators Diana Mot and Isabella Bergström.
If just a few names are to be remembered they would certainly be Louise Campbell and Cecilie Manz, but also Kasper Salto and Hans Sandgren Jakobsen. The new creations in the Object line at Fritz Hansen. Among the new manufacturers and editors there are many: Gubi, Muuto, Handvaerk, &Tradition, Hay, Normann Copenhagen, Ferm Living, Louise Roe but also Woud...and of course the focus should be on the new Scandinavian design dynamic, whose international success does not seem to be waning. The new editors and manufacturers seem to have breathed new life into the old, who were not short of ideas for their own renewal, at the same time continuing to produce the classics. More than ever, the Scandinavians are pioneers and the driving force in world production of design who are entering the contemporary age as its leaders.
Rikke Jacobsen, Art Historian, Scandinavian design specialist