Scandinavian stool model U1.
AF038

Delivery time : 4 weeks
(from)
Scandinavian stool model U1. *Required step
In order to help you to choose, and to receive samples, do not hesitate to contact us by email: contact@galerie-mobler.com or by phone: 01 43 33 20 12
Scandinavian stool model U1.   
The Andersen U1 stool is a fun and different stool, which has just been launched by Andersen Furniture. The stool is designed by Christian Juhl, who has combined wood and metal on a new and non-traditional way. The stool is made from solid ash and is fitted with patent locking brackets in stainless steel.

The patent locking brackets are constructed on exactly the same principle that we know from jars and bottles all over the world, making it easy to remove the legs.

All in all, a functional, decorative and expressive stool.
Dimensions
Ø30 x H46,5 cm
Material
Ash untreated or black lacquered ash.
Style
Contemporain
Neuf
Origin
Denmark
Fournisseur
Andersen Furniture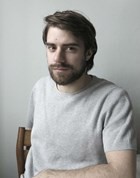 Christian Juhl
Christian Juhl graduated from the undergraduate program at the School of Design at the Royal Danish Academy of Fine Arts in 2015, and is now studying on the School's masters program. Christian has had his own business since 2012. One result of his collaboration with Andersen Furniture is the U1 stool.