Silverback cell lamp, 2 sizes
LP032

Delivery time 1 / 2 weeks
Silverback cell lamp, 2 sizes *Required step
In order to help you to choose, and to receive samples, do not hesitate to contact us by email: contact@galerie-mobler.com or by phone: 01 43 33 20 12
Silverback is designed by KiBiSi one of the most influential design groups in Scandinavia. Silverback wall and ceiling luminaire is designed to visually morph into the architectural surfaces mounted on. The Silverback Wall/Ceiling is part of a product family which also includes a pendant variant. The fixture emits diffused light. The opal curved diffuser provides a soft and comfortable spatial lighting, and the metallised rear half of the product produces a decorative halo-like illumination on the ceiling or wall surface. The metallised surface also creates a mirror effect, reflecting the texture, colour or material of the installation surface. Finish
White opal and alu-metallised. 
Condition
New, on deman. Delivery time : 2/3 weeks
Dimensions
Width x Height x Length (mm)440 x 110 x 440 Max. 3,6 kg295 x 89 x 295 Max. 1,4 kg
Style
Contemporain
Neuf
Origin
Denmark
Fournisseur
Louis Poulsen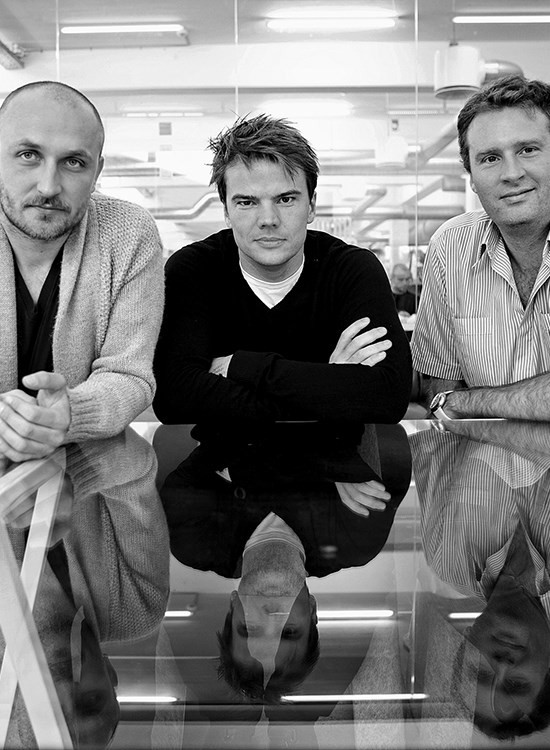 KiBiSi, Studio
KiBiSi was founded in 2009. The company is a partnership between three architects/designers, and its name comprises the first letters from each of their individual companies that joined forces in the shared project.
Ki – Kilo Design, founded by Lars Holme Larsen, architect and furniture designer. Kilo Design takes as its starting point the huge spectrum of expressions that arise in the creative field – everything from established art to street paintings – and makes use of same in its work to create simple yet distinctive solutions to complex design issues. Kilo Design has, for example, designed a range of electronics products for the company AIAIAI
Bi – BIG – Bjarke Ingels Group, founded by Bjarke Ingels, the architect. In just a few years, BIG has built up an impressive reputation on the architectural scene both in Denmark and internationally for its ability to unite wildly different demands to create buildings that capture attention and stimulate debate. The company bases its work on a belief that society will develop in a positive direction, and that the architect can assist in highlighting solutions that match a time when more and more of us live hectic everyday lives in the city, but are developing an increasing consciousness of the nature that shapes us. One of BIG's commissions was to design the Danish pavilion for the World Exhibition EXPO 2010 in Shanghai.
Si – Skibsted Ideation – founded by Jens Martin Skibsted, designer and philosopher. Jens Martin Skibsted's fundamental idea is that a strong design profile and positive identification with the objects with which we choose to surround ourselves can help to change the way we act. One of his best-known projects is the Biomega bicycle. Here, he took as his starting point the desire for a cleaner, quieter urban environment, and translated this wish into a means of transport that features both a level of technical quality and a design status that encourages us to leave our car in the garage and travel around town on two wheels instead. The Biomega bicycle is on display in the Museum of Modern Art in New York and San Francisco.
It is through the juxtaposition of large scale and detail, architecture, design and technology that the three creative forces behind KiBiSi have succeeded in generating a shared space where they can give free rein to their effervescent design idiom. It is here that they can utilise their simultaneously intuitive and analytical approach to the needs of modern people, and transform this into design that carries on timeless tradition but whose expression is very much at the cutting edge. In collaboration with Louis Poulsen, KiBiSi has developed SILVERBACK based on LED technology.